Ta - Specialites Ovalution 4 Arm Chainring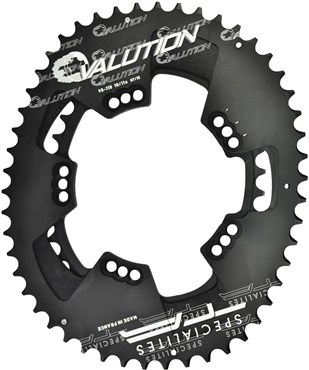 Specifikation
Beskrivelse
Brand
For kids
Component type
Product Description
Elliptical chainrings are better suited to the biomechanical requirements of pedalling, delivering more force to the crank for less effort, helping to increase pedalling efficiency, while reducing muscle fatigue. This design also provides a more constant torque to the rear wheel, giving smoother acceleration and reduced wheel slippage.
Innovative multi-indexing thanks to a brand new fixing concept with threaded chainring holes.
3 different positions are available for the mounting of the X110 Ovalution chainrings. They are marked 1, 2 and 3 on the outer chainring. The ideal position depends on your kind of practice, your build, your bike geometry, … Here are basic recommendations :
Position 1 : for classic road use, with alternate stages: on or off the saddle, and on the rear of the saddle
Position 2 : for an intermediate use
Position 3 : for time trial and triathlon use, sitting on the front of the saddle
TA have also produced a front mech adaptor to allow increased clearance and corrected chain-line for use with braze-on front mechs and oval rings.