Sidi - ALBA
( Save: 37 % )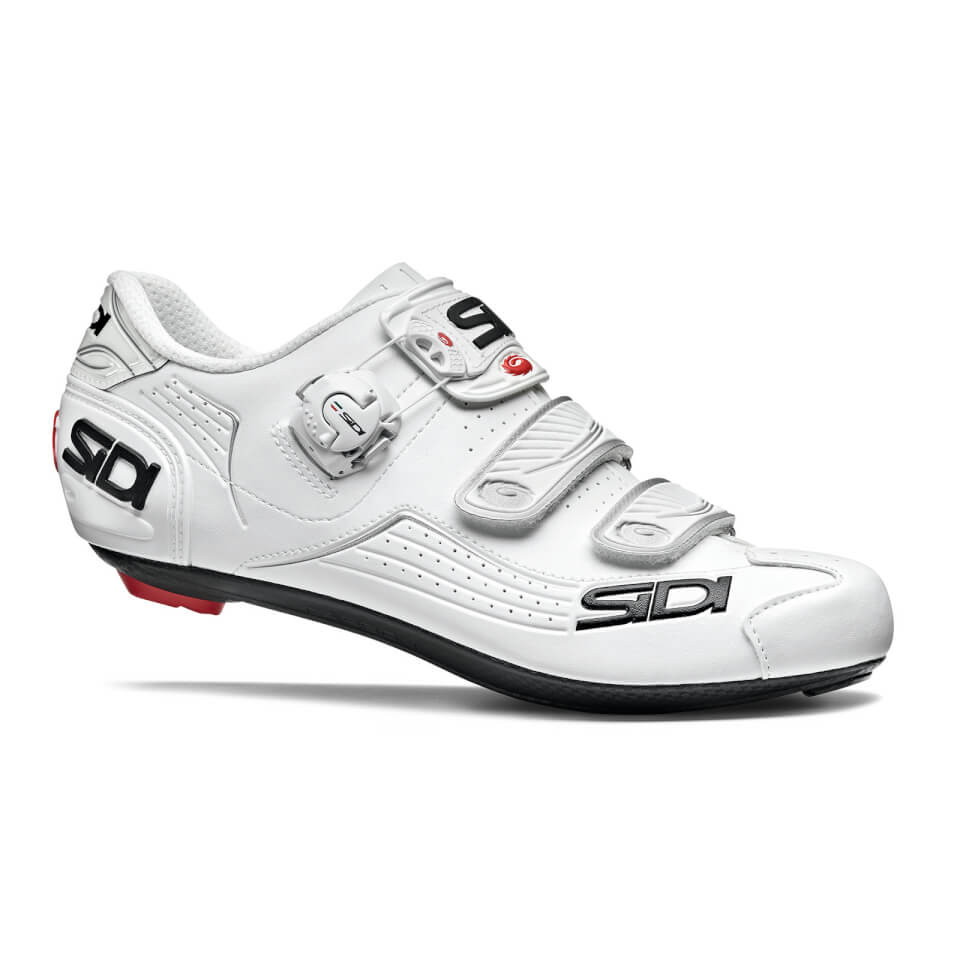 Specifikation
Beskrivelse
Brand
For kids
CE Certification
Clothes type
The newcomer to the SIDI Road world - successor of the level. Now with Tecno-3 twist-off fastener and two Velcro straps which provide an optimal hold. With this beginner's model you can go on the streets.
Features - Sidi Alba
Sole: Millenium 4 Carbon Composite
Upper material: Politex
Closure system: Tecno-3 System & Velcro Straps
Exceptional hold thanks to Heel Cup
Durable and robust due to high quality processing
SIDI technologies
Politex
The politex material is constructed of several overlapping layers with different physical-mechanical properties, the compacted PVC is then coupled to two fabrics (knitted fabric + felt) that is then is film dyed for long-lasting color retention. Politex offers strong resistance to ripping, laceration, stretching and fading. Politex is made in strict compliance with European regulations and is a totally green product.
Millenium 4 Carbon Composite Sole
The Millenium 4 Carbon Composite features injected carbon fiber in a matrix of Nylon, providing more rigidity than a standard nylon sole. The Millenium 4 Carbon Composite Sole is also more durable, completely non water-absorbent and mechanically stable, meaning it's less susceptible to changes in stiffness resulting from aging, prolonged usage, and changes in temperature or humidity. An anti-slip toe insert and replaceable polyurethane heel pad are incorporated into the Millenium 4 Carbon Composite Sole, for walkability. The sole uses a standard 3-hole drilling pattern for compatibility with the best pedal systems available, and includes a printed 10 mm lateral and fore/aft cleat alignment scale on the sole as well as the Look Memory Eyelet for easy cleat alignment and replacement.
Tecno-3 System
Comfortable and ergonomic shoe fixation by means of nylon cable and twist lock on the upper part of the shoe. Easy handling even while driving. Additional securing with Velcro fastener.
Soft Instep 3 Closure System
Anatomically shaped instep band for optimal adjustment and even pressure distribution on the foot span.
High Security Velcro
Straps with integrated locking polymer teeth, that engage onto each other when the strap is closed. This feature makes the closure more secure and the strap becomes unmoveable.
Heel Cup
The reinforced heel keeps the foot in a optimal position and avoids the shoe being deformed by extreme performance or prolonged pressure.
Replaceable Heel Pad
For walkability, Sidi cycling shoes include a replaceable polyurethane heel pad.
Please note: These shoes are quite small. We recommend trying one size larger than usual.
Prices from :
65
To
145
GBP