Skins - A400 Compression Long Sleeve Top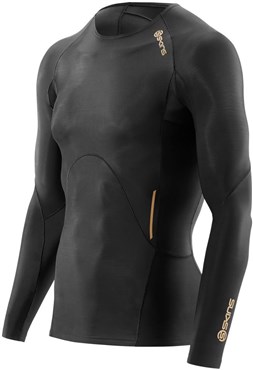 Specifikation
Beskrivelse
Brand
For kids
Clothes type
Product Description
Pull-ups, press-ups, bench presses or mountain biking, running, tennis? Irrespective of which sport you are committed to, the Skins A400 Men's Long Sleeve Top is an important part of your equipment for your upper body. The top has been developed and enhanced to meet the demands of a body in movement to the fullest extent. The garment is constructed from many different panels using five different materials and its flat A-Seams provide comfort and durability. The mesh inserts under the arms provide breathability in the armpit area.
The Skins A400 Men's Long Sleeve Top also features our new Adaptive Technology. This keeps you cool when it is hot and warm in the cold. Adaptive is the currently most advanced technology with regard to climate regulation. And if your training should go on into the night the reflective logos and fabric panels provide additional safety. The top and its matching SKINS tights will supply you with 360-degree visibility. Even during extreme movements, the top will stay in place thanks to the silicone insert on the hem. Sleeve cuffs with bonded seams provide the garment with a modern look and offer ultimate comfort.
Key Features:
Improved neckline for increased comfort
Adaptive Technology keeps you warm when it's cold and cool when it's hot
A-Seams for comfort and durability without chafing
Stretch airflow mesh under arms increases breathability
Silicone gripper on hem stops top from riding up
Compression Benefits:
Dynamic Gradient Compression - Skins most advanced compression technology increases muscle oxygenation, stabilises active muscles and reduces blood lactate build up, to enhance performance and speed up recovery time.
Functional Design:
400 Fit - 3D body scan data and 400 key fitting points have been used to create a more precise and comfortable fit to maximise compression benefits.
Muscle Focus - Biomechanically positioned panels and seams support and stabilise the muscles to reduce fatigue and risk of injury.
A-Seams - Ultimate comfort is delivered through flexible, flatter A-Seams. It's sleek construction, specially developed for technical athletic wear, means the A-Seam sits flat against your body to eliminate chafing and they're 30% stronger than a standard stitch making your SKINS super tough.
360 Degree Reflectivity - The logos are all made from premium reflective glass bead technology. By day, it's sleek looking graphics but in low light they come alive with powerful reflectivity.
Fabric Technology:
50+ UV Protection - Skins proven 50+ UV protection.
Warp Knit - Skins compression fabric is made from a warp knitted mix of yarns that give you a carefully calculated level of stretch for controlled compression and durability.
Adaptive by HeiQ - At low temperatures, the unique polymer binds moisture in its structure keeping you feeling warm and dry. As your temperature increases, it changes its properties, releasing stored moisture to the surface where it evaporates and cools your skin.