Pedros - Apprentice Tool Kit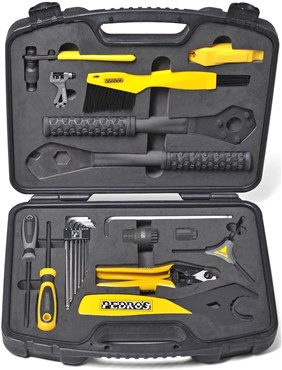 Specifikation
Beskrivelse
Product Description
Inspired by Pedro's unrivaled Master Tool Kit, the new Apprentice Tool Kit offers 22 handpicked professional tools enclosed in a high quality, blow-molded hard case.
This ultra-portable tool kit leverages the versatility of Pedro's hand tools to give 32 functions covering an impressive range of installations and repairs making it perfect for the professional or enthusiast.
Each tool has its own location cut into durable EVA foam keeping the kit organized and your tools easy to find.
Designed for easy transport and efficient storage, the Apprentice Tool Kit is perfect for the car, taking to events, or a minimalist home shop setup.
Includes 22 Tools and 32 functions:
7pc L Hex Set w/ Holder: 1.5, 2, 2.5, 3, 4, 5, and 6mm hex sizes.
8mm L Hex
Y-Torx, T10,T25,T30
Tire Lever - Yellow (2)
Splined Bottom Bracket Socket
HG Cassette Socket
Bottom Bracket Wrench - Shimano Integrated
Phillips #2 Screwdriver
Flat 5.5mm Screwdriver
Universal Crank Puller w/ Handle
Equalizer Pedal Wrench w/24mm Socket
6 Pack Chain Tool with Spoke Wrenches (3.2, 3.3 and 3.5mm)
Cable Cutter
Cog Wrench
Toothbrush