Cannondale - SystemSix Hi-Mod Ultegra Di2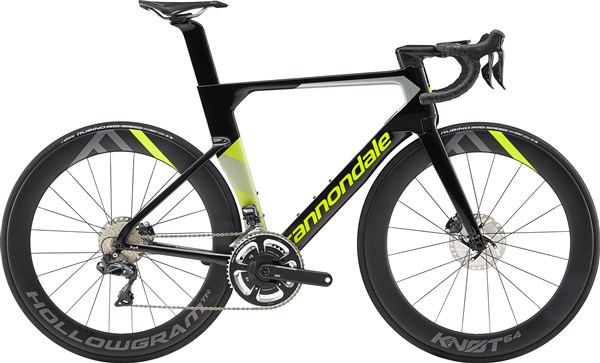 Specifikation
Beskrivelse
Mærke
Til børn
Cykeltype
El-cykler
Elektronisk geargruppe
Geargruppe
Cannondale SystemSix Hi-Mod Ultegra Di2 - 2019 Road Bike
Colours: Black/Sage Grey/Volt
0%Finance available
- ALL-NEW SystemSix, BallisTec Carbon, Di2 ready, SAVE, BB30a, flat mount, Speed Release thru-axle
- Shimano Ultegra Di2 Hydro Disc, 11-speed
- Cannondale HollowGram Si w/ Power2Max NG Eco Power Meter
- ALL-NEW HollowGram KNT64
-Vittoria Rubino Pro Speed
View high resolution image
Download full spec sheet
If you like to go fast, the all-new SystemSix will make you faster. Its as simple as that. Theresult of years of intensive R&D, its fully System Integrated design delivers more speed, inmore situations, than any other bike on the market. Speed yourself up with the fastest UCI legalroad bike in the world. The SystemSix produces the least aerodynamic drag of any road bike on the market. Since the bike represents about 30% of a riders total drag, that translates into less effort for any rider, at any speed.
Key Design Features
Full System Integrated Design -The frame, fork, seatpost, bar, stem and wheels weredesigned together as a holistic system to minimizedrag, enhance comfort and optimize stiffness.
Tailored Airfoils -Every section of the frame, fork and seatpost featuresit own customized truncated airfoil shape, designedto reduce drag across the effective yaw range.Downtube and seat tube shapes minimize the aeroeffect of bottles, because thats how we ride.
Disc Only -Disc specific design allowed for aerodynamicoptimization of the frame and fork and awheel/tire choice that would not havebeen possible with rim brakes.
Hidden Cable Routing -Unique design routes brake lines and Di2 cablesthrough an opening in the front of the headtube,bypassing headset bearings. An integrated steeringstop prevents damage to the cables and permits afull +/- 50 degrees of steering rotation (regular ridingrarely sees more than 35 degrees of movement).
Power2Max Power Meters -Light, accurate and reliable Power2Max spiderbasedpower meters are included on mostmodels. Turn it on with a one-time activation feeand start getting faster. Its power made easy
Speed Release Thru-Axles -For faster, easier wheel changes, the Frame andFork use the Speed Release thru-axle standard.Compatible with any standard thru-axle wheelset.
This bike is the perfect racing bike allowing you to go faster easier on climbs, descents, the flat and in the sprint, be it for the cafe, a town sign or a race win.
Butik
Adresse
Ringstedgade 9
4700 Næstved
Åbningstider
Mandag til torsdag:
09:30 - 17:30
Services
Reparationer / Værksted: Ja
Adresse
Fuglsigvej 58
9800 Hjørring
Åbningstider
Mandag til fredag:
09:30 - 17:30
Services
Reparationer / Værksted: Ja
Adresse
Ejbovej 67
4632 Bjæverskov
Åbningstider
Mandag til fredag:
10:00 - 17:00
Services
Reparationer / Værksted: Ja