sockguy - Rubino Wooligan Socks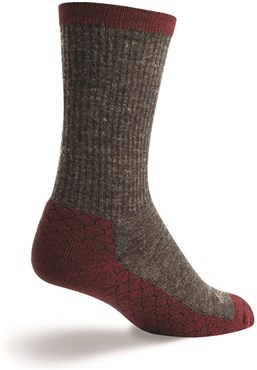 Specifikation
Beskrivelse
Brand
For kids
Clothes type
Product Description
The Wooligan is the best winter sock you will ever wear.
Key Features:
These socks will keep your feet dry and warm in all weather conditions.
Featuring a 6" Easy-Fit cuff, arch support, moisture wicking channels and a padded foot bottom for extra warmth and comfort.
Made with 75% TURBOwool, a superior blend of 50% polypropylene and 50% Merino wool, which gives five times the strength and durability of Merino wool alone.
Shrink-resistant and itch-free.
Cuff Height : 6"

Size: S/M (4.5-8.5) L/XL (8.5-12.5)

"These socks held up remarkably well during my 3 hour race. The colder temperatures in the morning were no issue – my feet seemed to stay very dry and very warm. I've known wool socks were great with moisture control, I just never expected it to work so well over the course of a 3hr race. If you're riding in the wet or cold, you have to get a pair of these Wooligan socks, you will be very pleased!"
- Eric Graham - Next Ascent Outdoor Sports