castelli - Premio Bibshort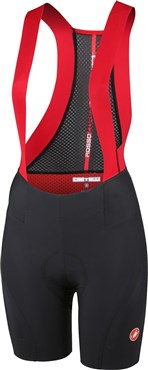 Specifikation
Beskrivelse
Product Description
The Castelli Premio W Bibshort has been designed for your longest rides this isn't a race short (although you can race in it) this short has been designed specifically to offer maximum comfort and support no matter how far you go.
The Forza fabric has a high Lycra content for support and rebound while offering light compression. Then we have the lumbar support band just giving you that little more support and a locked-in fit.
The short features minimal seams to reduce the risk of rubbing and the leg ends are raw cut and have minimal verticle silicone grippers that keep everything exactly where it should be without squeezing your thigh so hard you have a mark for the next 12h
Obviously, on shorts designed for women going the long way round, we have the excellent Progetto X2 Donna women's seat pad with vented Gel inserts. While the bib straps have been designed to lat flat around the female form.
Key Features:
The Premio Bibshort is designed to allow you to ride longer. Designed by women for women every aspect of this bibshort adds to your comfort no matter how far your ride
Forza fabric with 38% Lycra content for perfect fit and light compression
3D mesh breathable lumbar support band
Reduced seaming for more comfort
Raw edge leg ending with vertical silicone leg grippers
Bonded flat, female-specific ergonomic bib straps for extra comfort
Embossed Castelli shadow wordmark
Progetto X2 Air Donna women's specific seat pad
Priser fra :
947
Til
1.163
DKK